Mobile Application

Betterhelp
Research, Design and Reiteration


Feb 2020

This is a design project that I did while interviewing with Betterhelp.

Betterhelp is the world's largest online therapy platform - they offer counseling over text messaging, video and live chat. As part of the interview, I was tasked to find three improvements for the product. Since I was deeply interested in healthcare, it was a great opportunity to learn about the digital mental health.


Research
I explored Betterhelp's trial. While Betterhelp's interface is simple and straightforward - I've noticed a few problems from information hierarchy to journal feature. I also looked at Betterhelp's reviews on IOS to get a better understanding of the current app.


Counselor's Profile

Improvement #1
Changing information hierarchy
Although Betterhelp's interface is simple, once I clicked onto the advice column and counselor's profile - I saw that the information is incredibly densed, which makes it questionable in terms of information.
Text density on both mobile and desktop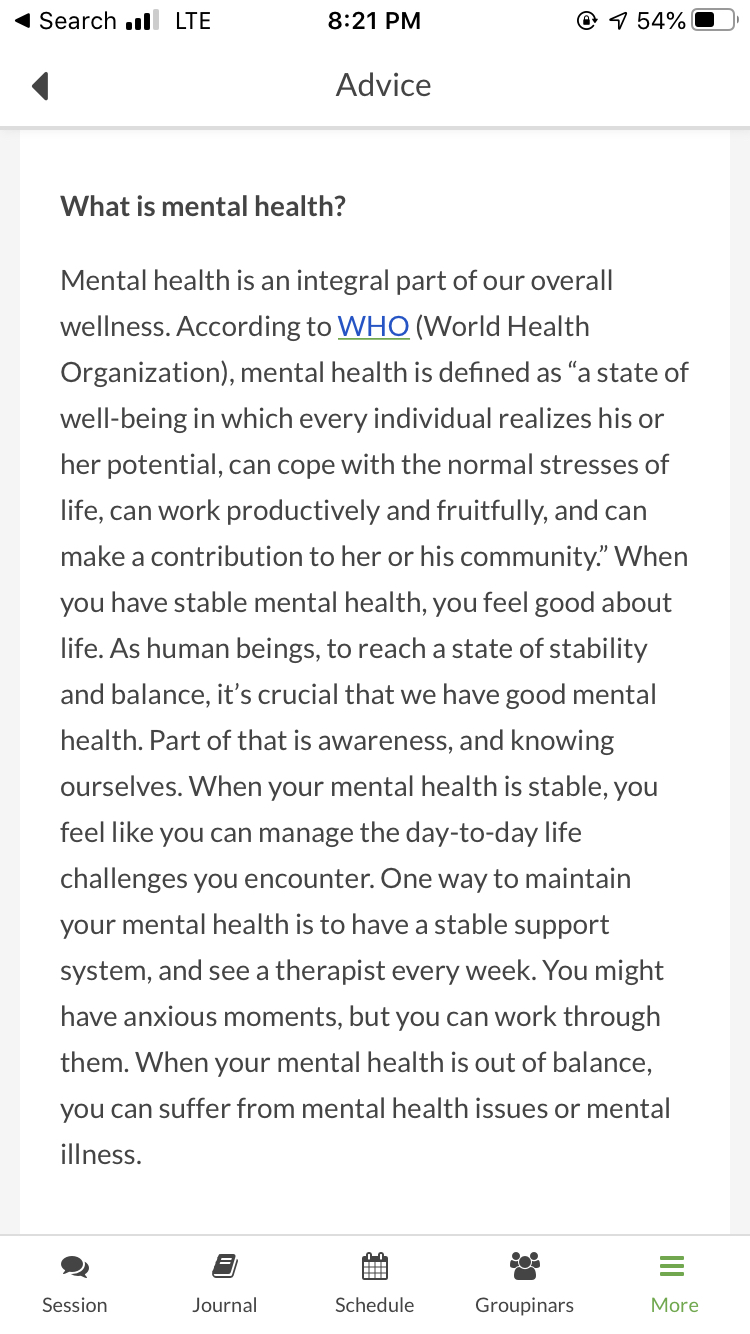 Once I looked at the counselor's profile, I noticed that the most important information for counselor's (service offered, licenses, specialities) were placed at the end. As I changed to new counselors, each of them have lengthy profile, masking crutial information for users.
Lack of structure
Journal, as one of the main features of Betterhelp, lacked a lot of call-to-action. From their small text box to display of saved post, it didn't seemed to be a journal at all.
I referred to some other journal UI (One Day, Google Keep, and even Evernote) and noticed that most kept a calendar. Since calendar can give an overview of previous post - it was more personal for users to visually see their input over time.
Screening at-risk users early on
Improvement #3



Reducing frustration
for at-risk users
The last improvment pertains to onboarding at-risk users (defined as suicidal or self-harming). As of now, Betterhelp's screening feature requires users to answer 10-12 questions only to be turned away if they are at risk users. This create a frustrating experience for users, who are seeking help, only to be turned away:
"Useless for people who is really struggling. You get help just if you pay (in advance) otherwise nobody will listen to you. They don't care if you are suicidal, unless you use your credit card..". - Pierce Nicolette
user review on iTunes
I understand that Betterhelp, for liability reasons, do not accept at-risk users. However, I believe that the app can filter out users early on rather than rejecting them towards the end:
Final design
Feedback and Final Thoughts
Counselor's profile
The team agreed upon the changing of the counselor's profile, however since mentioned that since users often focuses on the service provided for the counselor, rarely do they read the counselor's profile.

Furthermore, the advice columns texts are long to encourage for SEO.



Journal feature
The team agreed that there were some changes needed with the journal feature. While it is incredibly popular feature, they wanted to input the calendar and inputting text into one -- rather put extra screens separately



Screening-at-risk users
The team mentioned that these questions are purposefully vetted out at-risk-users. While they are upsetting a small population, they are afraid that my solution will give users the ability to lie and bypass the service later on.



Final thoughts
Overall, this was a great opportunity to learn design for mental health. If I had more time, I would take the opportunity to consult with users as well as psychotherapist to work on language and content.