Care in Crisis
Delivery application for elder users
Team: 4 product designers
Duration: April 2020 (1-2 month part-time)
✨ During the COVID-19 pandemic, I collaborated with 3 other designers in Global UXD Design Jam to designed a web and mobile application that connects volunteers with vulnerable community members to assist them in daily tasks.

While we shared equal amount of work, I did competitive analysis, userflow and request a service wireframes.


Inspired by one of our teammate's personal worries of her father living alone in another country, we focused on creating assistance on daily tasks for older users, and therefore we asked ourselves:


How do we ensure people at risk (seniors, individuals with autoimmuned disorder and populations at risks) get their most immediate needs?

💫 Solution
A web and mobile application that connects volunteers with those who need help completing tasks in a completely contactless manner.
➡️ ➡️ ➡️
Process

Research - Define - Ideate - Prototyping - Refine
---
🔎 Research
User Interview, Competitive Analysis, and Market Research
We found out that the problem is much bigger - In most big cities of the USA, an alarming
43% of people live alone of the population lives alone, and among them 1/3 are 65 and older. We realized that our service can cover a larger need.

To get an understanding of older adults' behaviors, we interviewed
8 individuals aged 65+
and surveyed 30 adults
📌 Defining the Problem

Affinity Mapping, User Journey, User Persona, Empathy Mapping
While we did consider those with auto-immuno compromised, we wanted to focus on our elderly user:
With all of the data above, we boiled down some key features:
• Our platform was website based since our users have a preference of using desktop and tablets rather than their cellphones
• Credit cards are the preferred payment method
• Grocery and prescription are the most requested tasks

We also addressed some of user's primary concerns for such a service:
User's Concerns
Concerns about safety during COVID-19
Not sure if users can trust payment to other strangers
English was the first language for some users
Our Solution
COVID-19 screening for both volunteer and those that require assistance
Monetary reimbursement verification with Image of receipt
Accommodate non-English speakers by adding language preferences
💭 Ideate
Sketches, User Flow, Site Map
Before getting started, it was important to map out our userflow as a blueprint for most important interactions. There were three touchpoint that we need to ensure logic interaction between user and volunteer:
Requesting a service for user
Matching volunteer with user
Volunteers delivery process and communication with user
the overall user flow
🖌 Design
Low-Fidelity Wireframes, UI Kit
Since we were designing for older folks, it was imperative that we needed to make sure our designs account for poor eye sights, and possibly color blindness. We went for
large fonts, bolded colors and big buttons.
🤖 Prototype
User testing, MVP, Reiterations
Intially, we had to quickly do a MVP to make it in time for our presentation at the Design Jam.

Once that is done, we toiled on for a few more weeks to do 2 user testing and radical changes -- most notably the Dashboard and Request a Service.



First reiteration


Our first design iterations focused on the wireframes and flow. There are 4 important part of our designs that we gave each other feedback.




Second & Final reiteration (user testing)

While it was ambitious that we were the only team out of 16 teams still continuing working on this project, we conducted 2 more user testing with iterations mostly notably the
dashboard, request a service and volunteer matching.
Dashboard
2nd iteration
We removed our original board and made a Kanban board in order to spell out the steps among each requests...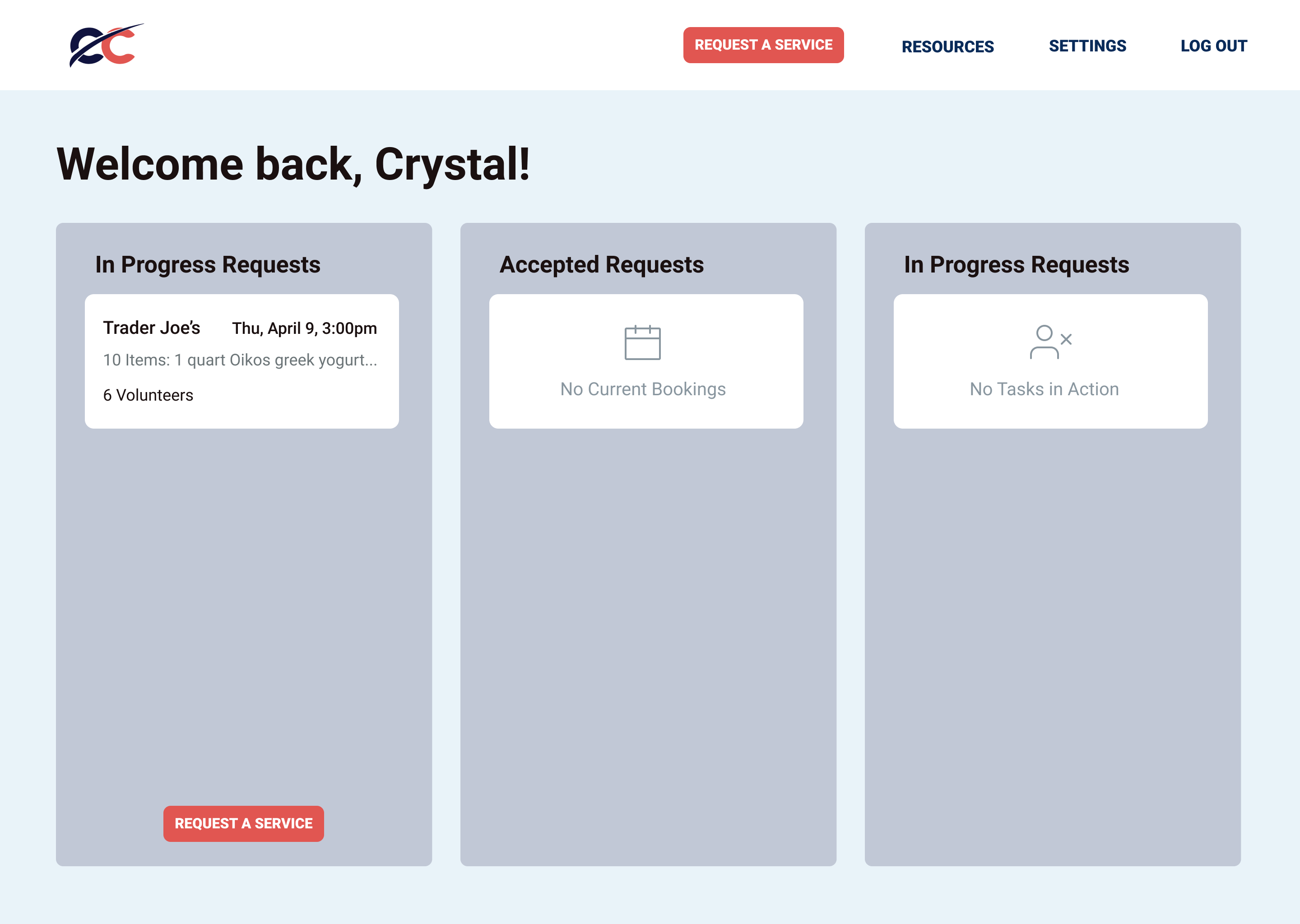 3rd iteration
However, our users were not necessarily familiar with the format and we decided to add statuses in each card to make things much easier and more convenient. Also, we gave more options for the user to select popular requests
Request a Service
2nd iteration
The original form was too long so we broke down each step to help our users focus one question at a time
3rd iteration
90% of our user completed the flow but we fixed minor issues such as contrast and adding a map to locate grocery businesses
Volunteer Matching
2nd iteration
We gave more options for our users to select the volunteers and a reminder if the volunteers are not available
3rd iteration
Upon our third testing round, we realized that it was a lot of burden to ask for our users to find volunteers again so we opt for an automatic matching, simliar to Uber and Lyft services
🎬 Conclusion
Overall, it was a good lesson to learn the fundamentals of User Experience Design. I noticed that there was a lot of features that I could have improved.

The hardest part was remaining focus and not being be too ambitious to tackle multiple problems:

• We had to scratch an entire volunteer mobile flow
• We revised and realized the manual volunteer matching did not make sense

Another thing I wished we did was setting out metrics. In this case, certain beneficial metric would be task completion and amount of information filled.

Regardless, I greatly enjoyed working with these ladies and have the ability to work remotely using Miro, Google Meets and Figma.